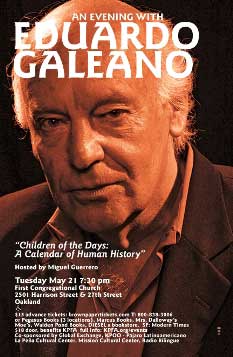 7:53:12 p.m.
Daniel Kovalik*
I was introduced to the works of Eduardo Galeano over 25 years ago when I was still in college. My wonderful professor and friend, Margaret Knapke, loaned me a copy of his Days and Night of Love War, and I remember devouring it with great relish.
Children of the Days
At age 19, I had just returned from Nicaragua where my eyes were opened for the first time to the aggression of the U.S. against Latin America. In the case of Nicaragua, I was moved to righteous indignation towards my own country which had decided to terrorize a tiny, poor nation of not even 3 million people in retaliation for their "crime" of overthrowing a U.S.-sponsored dictator. I was equally inspired by the Nicaraguans' tenacity and courage in defending their homeland against the U.S. and its Contra surrogates.
Thus, by the time I read Galeano for the first time, I was delighted by his rich and colorful stories about Latin America and its 500 years of resistance against Spanish and U.S. colonialism.
Recently, The New York Times, in its never-ending crusade against the left, tried to claim that Galeano had disavowed his magnum opus, The Open Veins of Latin America, turning his back on his critiques of predatory capitalism and ratifying the views of his right-wing denouncers. [1] Of course, this yarn, spun from selective quotes from a Galeano interview, was untrue, as well exposed by a Monthly Review article which quoted Galeano in full. [2]
Galeano's latest book, Children of Days: A Calendar of Human History, does not betray any softening of Galeano's left-wing critiques of the capitalist world, and certainly no weakening of Galeano's ability to write beautiful prose.
Children of Days is written in the same manner as Galeano's great Memory of Fire trilogy. It is a book of vignettes, of no more than a page each, for each day of the year. Each vignette recounts a historical event which happened on that date of the year, told in the form of a short story or in some instances a poem, and always with a clever twist or with a wry observation by Galeano.
The breadth and depth of Galeano's knowledge about world events, and of the human spirit, are in full display in this book. Indeed, the book has the aspiration of being a bible of sorts. The hard back version even has a cloth book mark like bibles often do, and begins with the following passage from "Genesis, according to the Mayas" – "And the days began to walk. And they, the days, made us. And thus we were born, the children of the days, the discoverers, life's searchers."
The book covers a lot of ground, and in no discernible order. And so, I will share some of my favorite passages. For January 3, for example, Galeano writes about how, "[o]n the third day of the year 47 BC, the most renowned library of antiquity burned to the ground" at the hands of the Romans who had sacked Egypt. He then fast forwards to 2003 when "after American legions invaded Iraq, during George W. Bush's crusade against an imaginary enemy, most of the thousands upon thousands of books in the Library of Baghdad were reduced to ashes." Galeano then ends his tale on a happy note, recounting how Abdul Kassem Ismael of Persia "kept books safe from war and conflagration" by mounting 17,000 of them on four hundred camels which marched in a line one mile long – the largest book mobile ever.
On February 16, Galeano tells the reader about "The Condor Plan" through the experience of one individual, Macarena Gelman. As Galeano writes, "Macarena Gelman was one of the many victims of Operation Condor, the common market of terror that linked South America's dictatorships." The terror inflicted upon her began before Macarena was even born, we are told, as "[t]he Uruguayan dictatorship oversaw the birth, killed the mother and handed the newborn daughter to a police chief." Marcarena survived, but grew up with the recurring nightmare of "being chased by several men armed to the teeth, and night after night she would wake up crying." She would later come to understand that she was dreaming of her mother's own ordeal of fleeing from the dictatorship as "Macararena was taking shape in the womb . . . ."
Of course, Galeano is intimately connected to the story of "The Condor Plan" as he himself was a victim of it. Thus, Galeano himself was imprisoned after the military took power in Uruguay in 1973, the military government taking umbrage at his journalism and, in particular, his book, The Open Veins of Latin America. He was ultimately forced to flee to Argentina. However, jumping from the frying pan into the fire, he would soon have to flee Argentina as well after the fascist dictatorship took power there and his name was added to the hit-list of the Argentine death squads.
During Operation Condor, Open Veins was banned in Uruguay, Argentina and Chile. Unable to ban this book now, the powers that be, and their organ, The New York Times, have tried to destroy the influence and impact of Open Veins by other means. But I digress.
One of my favorite stories in Children of the Days is entitled "A Clear Conscience" and appears on the date, March 13. I reproduce it in full here:
On this day in the year 2007, the banana company Chiquita Brands, successor to United Fruit, admitted to financing Colombian paramilitary gangs during seven years, and agreed to pay a fine.
The gangs offered protection against strikes and other untoward behavior by labor unions. One hundred and seventy-three union activists were murdered in the banana region during those years.
The fine was twenty-five million dollars. Not a single penny reached the family of the victims.
By the way, as Colombia's Inter-Church Justice & Peace Commission recently reported, Chiquita may still be sponsoring paramilitary groups in Colombia. [3] And so, it may be in need of some more absolution from the U.S. Justice Department. I have no doubt that the DOJ, now headed by the lawyer who helped broker the first sweet-heart deal for Chiquita, Eric Holder, will be glad to oblige.
As one can see, the critiques of capitalism, imperialism and fascism are still there, belying the claims of the Times that Galeano has turned his back on the type of critiques of political economy contained in Open Veins.
What is largely missing, however, are the stories of the lives of the revolutionary saints which I remember enjoying so much in such Galeano works as Century of the Wind and Days and Nights of Love & War. Thus, one will not find a nice passage about a priest leading a group of Cubans up a hill to pay tribute to Lenin upon his death in 1924, of a woman who was born a slave taking the podium from Fidel and dancing in celebration of her new-found freedom after the revolution, or about the life and death of Che. Indeed, quite surprisingly, one will find no references at all to Fidel or Che in Galeano's short history of the world.
Still, there is a lovely vignette about the greatest revolutionary saint of this century thus far: Hugo Chavez. Dated April 11, this story reads:
On this day in the year 2002, a coup d'êtat turned the president of a business association into the president of Venezuela. His glory did not last long.
A couple of days later, Venezuelans filling the streets reinstated the president they had elected with their votes. Venezuela's biggest TV and radio networks celebrated the coup, but somehow failed to cover the massive demonstrations that restored Hugo Chavez to his rightful place.
Unpleasant news is not worth reporting.
Given that Galeano's Open Veins ended, by coincidence of its early 1973 publication date, happily and hopefully with Salvador Allende still alive and in power, I will end this review with Hugo still healthy, alive and at the helm of the revolution that he helped begin.
[1] http://www.nytimes.com/2014/05/24/books/eduardo-galeano-disavows-his-book-the-open-veins.html?_r=0U
[2] http://mrzine.monthlyreview.org/2014/menezes280514.html
[3] http://www.oidhaco.org/uploaded/content/article/2133713038.pdf
* Daniel Kovalik is a human and labor rights lawyer living in Pittsburgh. He graduated from Columbia Law School in 1993, and has taught International Human Rights at the University of Pittsburgh School of Law. The Christian Science Monitor, referring to his work defending Colombian unionists under threat of assassination, recently described Mr. Kovalik as "one of the most prominent defenders of Colombian workers in the United States." Mr. Kovalik received the David W. Mills Mentoring Fellowship from Stanford University School of Law and was the recipient of the Project Censored Award for his article exposing the unprecedented killing of trade unionists in Colombia. He has written extensively on the issue of international human rights and U.S. foreign policy for the Huffington Post and Counterpunch and has lectured throughout the world on these subjects. According to The New York Times,his article Death of An Adjunct "became a rallying point for adjuncts nationwide" in their struggle for better pay, dignity and unionization.