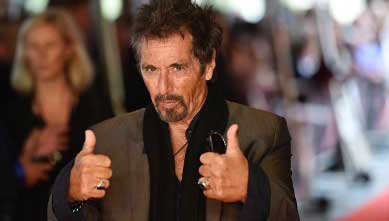 11:38:07 p.m.
The American actor has declared to be a long-time admirer of Oscar Wilde's biblically inspired tragedy.
The legendary American actor Al Pacino announced his return to West End stage after 30 years to star in Oscar Wilde's play Salome, which will premiere next Spring.
Pacino has previously appeared in versions of Salome in New York and Los Angeles, but according to him they were more rehearsed play readings than a full, dressed-up show.
The last version of the play was subject of both a filmed version and a documentary, both of which star Pacino as King Herod alongside with actress Jessica Chastain in the title role.
The play tells the Biblical story of Salome, stepdaughter of the tetrarch Herod Antipas, who, to her stepfather's dismay but to the delight of her mother Herodias, requests the head of Jokanaan (John the Baptist) on a silver platter as a reward for dancing the dance of the seven veils.
The 74 year old actor's last stage performance in London was in 1984. He has been a long time admirer of Wilde's biblically-inspired one act tragedy.
(Fuente: TeleSur)