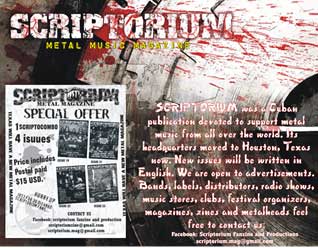 9:54:43 a.m.
Scriptorium was a Cuban publication devoted to support metal music from all over the world. Its headquarters moved to Houston, Texas now.
New issues will be written in English. We are open to advertisements. Bands, labels, distributors, radio shows, music stores, clubs, festival organizers, magazines, zines and metalheads feel free to contact us:
Facebook:Scriptorium Fanzine and Productions.