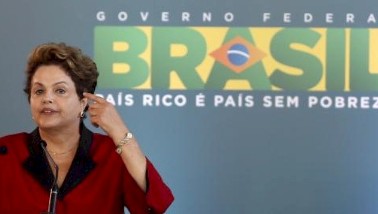 04/10/2014 a.m.
Two new polls show Brazil's incumbent president in the lead with 40 percent of support, whilst the battle to be the second candidate in any run off is heating up.
Brazil's incumbent president Dilma Rousseff has gained further support, while the main opposition candidates are in a near dead heat for second place, according to the latest polls.
A Datafolha survey has Rousseff on 40 percent, while her once nearest rival Marina Silva continues to lose support and is now only three percentage points ahead of Aecio Neves.
Neves, the most pro-market candidate, increased his support by one percentage point to 21 percent and could now make the runoff.
Up to 143 million Brazilians are expected to go to the polls on Sunday. A second-round vote is required by law if, as expected, no candidate wins a clear majority of votes.
Rousseff would win re-election in the October 26 runoff by 7 percentage points according to Datafolha, as well as a second poll conducted by the Ibope research firm.
Rousseff pledges to broaden social programs that have lifted millions of Brazilians out of poverty and reduced inequality in Latin America's largest nation, while Silva promises to revive Brazil's stagnant economy by implementing market policies.
Rousseff increased her lead in the first round to 16 percentage points in both polls, with 40 percent of voter support to 24 percent for Silva.
Silva has continued to slip under criticism from Rousseff's campaign that describe her pro-market policies as a threat to Brazil's poor.
The Datafolha poll surveyed 12,022 respondents nationwide between Oct. 1 and Oct. 2 and the Ibope surveyed 3,010 respondents nationwide between Sept. 27 and Oct. 2. Both polls have a margin of error of plus or minus 2 percentage points.
(Taken from: Granma International / TeleSur)