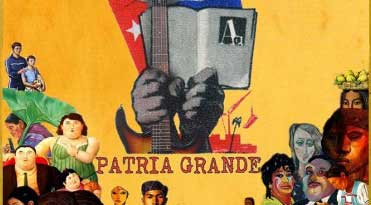 8:37:10 a.m.
Rock bands form all around Latin-America will perform in Cuba along with local artists.
The rock music festival, "Patria Grande," will take place in the Cuban cities of La Habana, Cienfuegos and Villa Clara, between November 14 and 18.
The President of the Organizing Committee, Humberto Cruz Hernandez, announced that the Latin-American bands that will perform at the festival will be: "No te va a gustar," from Uruguay, "Puya," from Puerto Rico, "Ra la Culebra," from Colombia, "Milixia," from Costa Rica and "Curva Sur," from Venezuela." All these artists will perform along with local rock bands.
The organizers of the event also announced the presence of Horacio Gonzalez, director of the National Library of Argentina, who will present an "audiovisual piece paying homage to Luis Alberto Spinetta, precursor of the Latin-Rock scene, which talks about his life and works."
Luis Alberto Spinetta, who died in 2012, is one of the pioneers of the Argentinian Rock scene. His influence is incommensurable, inspiring legendary rock bands in Latin-America, such as Soda Stereo, who payed tribute to the musician with their famous song, "Té para Tres".
Sebastian Heredia, Argentinian music promoter, thinks that the festival will allow the Cuban rock fans to become acquainted "with what is happening with the genre throughout Latin-America," and to the guest bands to "interact with high quality the Cuban rock bands."
(Fuente: TeleSur)